Jabir Z.Khalilov
Jabir Z.Khalilov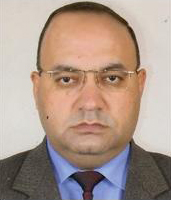 PhD, Associate Professor, Department of Criminal Procedure
Telephone (work): +(994) 438 0134
e-mail: jabirzahid@yahoo.com
PERSONAL DATA
Date of Birth:24 March, 1958, Baku, Azerbaijan
Secondary school № 102, 1965-1975 ; School of Law, Lomonosov Moscow State University, 1975-1980
Employment: BSU, 1980-present
Married and has 2 children
EDUCATION AND ACADEMIC DEGREES OBTAINED
Diploma in Law , School of Law, Lomonosov Moscow State University, 1980.
PhD, "Main explanations of AR Supreme Court Plenium", 1999
COMPLETE PROFESSIONAL BACKGROUND
Lecturer, Assistant Professor, Associate Professor, Department of Criminal Procedure, BSU, 1980 – 1995.
Courses taught: Criminal Procedure, Preliminary Investigation, Evidences
About 20 articles, 1 methodical instruction and 2 syllabi
PRESENT RESEARCH INTERESTS
"Jury System in Criminal Procedure"
INTERNATIONAL CONFERENCES, SYMPOSIUMS
European Law School Association conference on European Legal Education and the Bologna Process, Utrecht University, the Netherlands, November 19-20, 2004.
Third Annual Colloquium on Clinical Legal Education, Sophia, Varna, Bulgaria, June 20-30, 2000
LIST OF SELECTED PUBLICATIONS
"Azərbaycan Respublikası məhkəmə sistemində andlı iclasçılar institunun yeri", Azərbaycan araşdırmaları jurnalı, № 2, 2007.
"Andlı iclasçılar institutunun müsbət və mənfi cəhətlərinin təhlili", Hüquqi dövlət və qanun, № 5, 2007
"Azərbaycan Respublikasında aparılan hüquqi islahatların bir hissəsi kimi andlı iclasçılar elmi institutunun yaradılması ilə bağlı bəzi mülahizələr", "Advokat +", 2004, №3-4
INTERNATIONAL AND DOMESTIC GRANTS, PROGRAMS
Mississippi Consortium for International Development non-degree program on "Improving Educational Environment in Azerbaijan"- Community Connections 2006, September 13- October 4, 2006, Jackson, Mississippi, USA.
International Visitors Program participant, International Education Administration, A Freedom Support Sub-Regional Project for Armenia, Azerbaijan and Georgia, Department of State, USA, January 26-February 13, 2004.